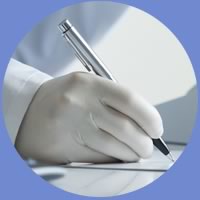 State Certified Laboratory – The Healthcare Institute has a state certified laboratory that can perform urgent laboratory tests within 15-20 minutes allowing us to be able to treat a large number of medical conditions that would otherwise require hospital emergency room evaluation and possible admission. We also are able to collect blood specimens for complicated laboratory tests that are sent to reference laboratories. This can be done at the time of the office visit to avoid additional "copayments" that are present when you have to be sent to a reference laboratory. Patients that have dangerous symptoms such as shortness of breath or chest pain should always seek immediate emergency room evaluation.
Our laboratory eliminates the need for you to make another trip to an independent facility for blood work while you are here for an appointment.
If you require routine lab work for conditions such as diabetes, or if you take Coumadin, you will be able to come in to have blood drawn on a routine basis.